For the past few years, I have had a love-hate relationship with Starbucks. I love their coffee – LOVE. I hate how expensive and addictive it is. Nonetheless, I find myself repeatedly going back for my venti iced vanilla latte after brief stints of swearing it off. Starbucks has a $50 Billion market cap, did $13 billion in sales in 2012, has over 149,000 employees, over 4 million followers on Twitter and over 34 million likes on Facebook. I have been amazed by what they have been able to accomplish, so I decided to take a brief look at their history and their prospects for the future.
History
Starbucks was founded in 1971 by three business partners that had met during college. From 1971 to 1976, the company had one location in Seattle. At first, they specialized in whole bean coffees, but later moved to espresso drinks and other beverages. By 1986, the company had expanded to six locations in the Seattle area. In 1987, the three founders sold the company to Howard Schultz, a former employee who remains at the helm today (though there were some other CEOs over the years). The company also opened its first stores outside Seattle in 1987, with the 11 locations initially selling only coffee by the pound. By 1989 there were 46 stores across the Northwest and Midwest in 1989 and Starbucks was roasting over 2,000,000 pounds of coffee a year. The first Starbucks location outside North America opened in Tokyo, Japan, in 1996.
Over the last 40 years, the company has expanded to over 20,000 stores in 62 countries around the globe – that is an average of two store openings per day… astonishing.
Popularity
There is a reason why Starbucks is the largest coffee house chain in the world. The main attraction is the addictive whole-bean coffees – lets be honest, they sell a drug… albeit a legal one. But Starbucks is more than coffee; customers can grab a sandwich, a glass of tea or a fruity summer beverage when they stop by. I am personally a fan of their spinach feta wrap and their protein bistro box. Starbucks also wants to be the "Second Place" for their guests; the first place they choose to go beyond their home. They were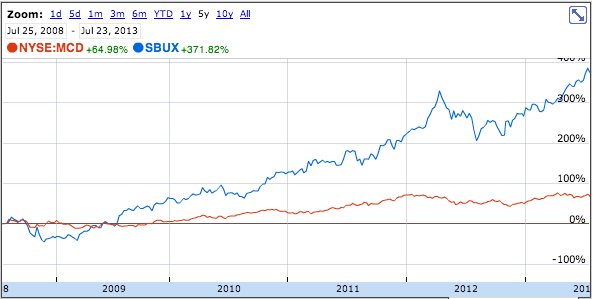 among the first chains to offer free WiFi and power outlets to their customers, something others have tried to replicate. The company is also dedicated to several philanthropic causes, donating funds to help causes near to the company's heart. Starbucks provides premium benefits to their employees, which they call "partners." Full-time and part-time employees are eligible for health insurance benefits, stock purchasing and 401K plans, as well as free coffee and discounts on merchandise.
Outlook
The future of Starbucks is bright and the stock has been on a tear for 5 years (this chart compares Starbucks to McDonalds). The company recently celebrated its 40th anniversary with Howard Schultz leading the way. Starbucks is currently transitioning and creating a new image, starting with the recent release of a new company logo. Business analysts predict even higher profits and strong growth for the company. While sales in the specialty coffee market are decreasing, Starbucks is increasing sales and profits. Over the last quarter, the company increased sales by at least 6% across the board in both the United States and international sales figures.