In order for VCs to compete for deals, they have to actively prospect people, companies and trends well before events like Y Combinator's Demo Day. Fortunately, many VCs are able to parse through data using software to quantify signals of growing and potentially lucrative startups. One such software company is Mattermark. The company was founded this past June by Danielle Morrill, who previously founded Referly, an online service that offered simple tools for collecting, sharing and tracking links across the web. After Referly shut down and became Mattermark, Morrill's husband Kevin Morrill and business partner Andy Sparks joined her as co-founders – a great pivot in my opinion.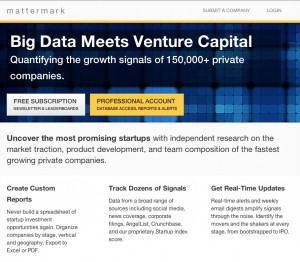 Mattermark provides an early-warning system in order to identify and win deals. The software provides VCs with the ability to access data from Twitter, news sites, SEC filings, LinkedIn, AngelList, Crunchbase, and the company's own proprietary Startup Index in order to spot potential opportunities and track existing startups.For example, Mattermark can identify a startup that is receiving a lot of organic Twitter mentions for early-stage investors.
Currently, Mattermark quantifies the growth signals of 150,000+ private companies and allows for downloadable custom reports, real-time updates, specific filtering, and easy organization and tracking of companies by stage, vertical and geography. The software also can be used to research the background of a potential investment or generate sales leads for clients. Right now, the paid pro account provides full access to all of the aforementioned features, while the free subscription provides a weekly newsletter and access to all company leaderboards. In the future, Mattermark hopes to build custom applications for certain firms.
Headquartered in San Francisco, Mattermark has received $1 million in seed funding. The company is backed by Andreessen Horowitz, New Enterprise Associates (NEA), Ignition Partners, 500 Startups, Jeff Lawson (CEO of Twilio), Dave McClure (founding partner of 500 Startups) Elliot Loh, Eileen Burbidge, Ullas Naik, Michael Liou, Damien Tanner, Matt Monahan, and Carter Rabasa. Fun fact: Andreessen Horowitz, Ignition and NEA all use the application internally. Since the company is so new I foresee a lot more financial backing over the next year. If the VCs see value in the tool they will be likely to reinvest. It's only a matter of time before the software helps a VC firm discover the next Instagram or Facebook.
I interviewed Danielle Morrill, CEO & Cofounder:
What was your goal in creating Mattermark?
To create a company that is the equivalent of Bloomberg for startups; providing investors with the tools to discover, research and track startups. Additionally we feel investing in private companies is becoming more democratized and want to support new angels, high net worth individuals and others who are exploring alternative investments for the first time.

What is one assumption that you made when you started that turned out to be completely wrong?
We expected the internal processes and tools of our customers would be much more sophisticated than they actually are today. Most of the time we are working with people who have happily relied on spreadsheets in their firms, sometimes for decades. It's easy to forget when working in a small technology startup that many more established companies have vastly different business processes. We approach it like anthropologists now, instead of trying to change everything we are more interested in understanding what works and learning why things are the way they are. It is fascinating.
What problem would you like to solve for VCs that you haven't yet?
We are very early, having launched just 4 weeks ago. The most important problem we want to solve is saving VCs and other startup investors time when they are sourcing new investment opportunities. If an investor does one deal because of information they found in Mattermark each year then the tool is already paying for itself.
In what creative ways are VCs using the data you provide them?
I can't share that yet, but hopefully we will be able to offer some whitepapers in the future. Startups are relatively long term investments, so it may take until we see some wins before we can tell these stories.
You seem to be a bit of a startup junkie. What draws you to them? 
It's funny you say that, because I feel like it is impossible to know about even 5% of the startup companies out there. I'm drawn to the ability to shape something that didn't exist before. Not just the product but the company itself, the work environment, team, culture, processes. I've also loved working in big companies, but I think in startups you can do in a month what in other companies can take years. I love the creative process, and making it my actual work instead of just a hobby is the most incredible opportunity in life.