Sailing into the future of human-computer interaction and competing for uncharted territory with stiff competition from Google Glass and Leap Motion's 3D gesture controller is Thalmic Labs and its flagship product MYO. MYO is a one-size-fits-all armband device that can harness your muscles' electrical activity, allowing you to wirelessly control your computer, smartphone, tablet or other digital device. That means, with a wave of your hand, MYO will transform how you interact with the digital world.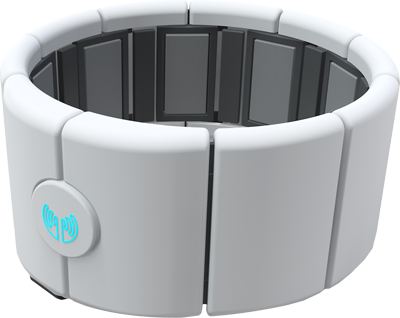 The Waterloo-based startup, nested in the heart of Canada's Technology Triangle, has dedicated itself to the development of gesture control and wearable technology since its founding in 2012. The company is an alumnus of University of Waterloo VeloCity and Y Combinator, and is the brainchild of co-founders Matthew Bailey, Aaron Grant and Stephen Lake.
MYO communicates with devices through Bluetooth 4.0 Low Energy and features on-board, rechargeable Lithium-Ion batteries, as well as an ARM processor. Windows and Mac OS are fully supported, and APIs for iOS and Android will be available soon. Sound too good to be true? Check out the armband in action.
Although it's not set to launch until late 2013, the $149 device and startup company have had little trouble attracting attention from the tech community. The product has already amassed over 30,000 pre-orders, with 10,000 of those orders placed in the first two days after the product's announcement – that translates to $4.5 million before the product has even hit the shelves.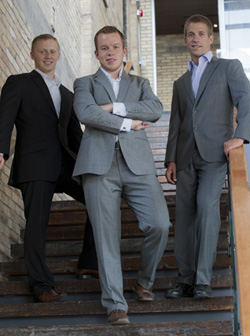 With such hype around this ground breaking device, it's no suprise that Thalmic Labs has attracted world-class investors including Spark Capital, Intel Capital, Formation 8, First Round Capital and FundersClub, along with a long list of individual investors ranging from tech superstar Paul Graham to ATI co-founder Lee Lau and Salesforce.com CEO Marc Benioff. In June of this year the startup raised $14.5 million in Series A funding, complementing its initial $1 million angel round in 2012. The cash injection has fueled MYO research and development, as well as talent acquisition.
Hardware is a tricky, unforgiving industry. Luckily, Thalmic Labs is navigating the waters just fine, with raving fans even before its first product launch. It will be interesting to see how MYO will evolve after release. There are definitely a lot of possible opportunities for the device – such as the ability to use two MYOs simultaneously or allowing it to pair with more than one device at the same time. Developers, stay tuned for Thalmic's developer's site, which is set to launch soon with more information on APIs and integration.