Apple's October 22 event is almost upon us, and rumors are swirling as to what products will be revealed.
Held at San Francisco's Yerba Buena Center for the Arts, Apple's October product reveals have become an annual event in recent years. Previous October events have seen the announcement of the iPad Mini, The iPhone 4S, and the Macbook Air.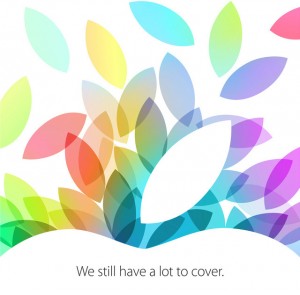 The teaser tagline for Apple's 2013 event is "We still have a lot to cover." While this may be a direct reference to a smart cover for a new slim iPad 5, it may also simply refer to the breadth of product announcements that are expected at this year's event.
Whatever the case may be, the iPad 5 will almost certainly be the centerpiece of the show. Analysts feel the iPad's camera is overdue for an upgrade, and an improvement from 5MP to 8MP on the rear camera is almost certain. A larger aperture is also expected, with lens ASP to increase 10 to 20%. This would bring the camera comparably in line with the one on the new iPhone 5s.
Apple also has strong impetus to add a retina display to the mini due to competition from the Nexus 7 and similar entry-level tablets, though analysts are conflicted on whether this move is yet possible from a supply standpoint. Both the iPad Mini and iPad 5 should see a boost in processing power, with Apple expected to add an A7 chip to the iPad 5 and a an A6X to the iPad Mini. Both models are also expected to go slimmer as well, though the addition of a retina display could actually force the Mini to become slightly larger and heavier. The iPad 5 is also in line for an infusion of color similar to the range available with the iPhone 5s. Space grey has all but been confirmed thanks to leaked pictures, but silver and gold are still speculative at this point. There is a possibility that the iPad 5 will see a Touch ID fingerprint sensor for one-touch unlocking of the device, but there is an equally strong possibility that Apple will want this to remain an exclusive feature of the iPhone 5s.
The New Mac Pro
Though attention will largely be fixed on the iPad, the Mac will not go without an appearance… something I am personally more excited about than the incremental iPad updates. I have been waiting for the new mac pro to ship since it was previewed earlier this year. There are multiple Mac Pros in our office (including my own) that are in desperate need of an update. I will be purchasing at least three new Mac Pros as soon as they are available.
Improvements to the Macbook Pro are also anticipated – a better Facetime camera, 802.11ac WiFi, and increased battery life.
On the software front, the official release of OS X 10.9 (Maverick) is expected to be announced. It is also possible that a new version of iWork will be revealed. There is an outside possibility that some revamp of Apple TV will also be announced.