This past January at CES I scoured the show floor for electronics that truly impressed me. I stopped by Jabra's booth and instantly feel in love with the Jabra Solemate. The Jabra team very kindly gave me one for free and  7 months later I have decided I love it enough to write about it.
If you follow me you know I am constantly on the go and travel non-stop. I love to listen to music while I work, and will often play music out of my iPhone's speakers while in my hotel room. While the iPhone is surprising loud, it is not very clear and lacks any hint of bass whatsoever.
Little Package. BIG Sound.
The Soulmate changes all of that for me. From the moment you pickup the Solemate you will be impressed by the quality of construction and the weight of the device. Turn it on and a deep bass "bonnnnngg" demonstrates just how loud this portable speaker is. Connect it via bluetooth to your iPhone (or other inferior mobile device) and you will simply be amazed by what comes out of this little black (or white) box. This thing destroys the Jambox by Jawbone.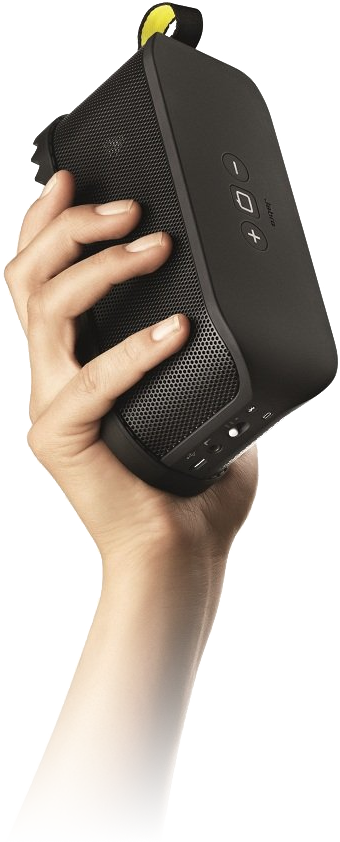 I recently took the Solemate to a beach party and it was an instant hit. It was loud enough to overcome all the people talking and the ambient noise of the ocean – so much so that people started dancing (ok, ok, ok – there may have been some alcohol involved). The long battery life (it is rated for 10 hours of music streaming) gave us enough charge to last our entire time at the beach, and to top it off the Solemate comes with a handy sand-proof bag.
I love the fact that I can keep my iPhone in my pocket and walk away from the Solemate. I've noticed that it gets about 20-30 feet of distance before it disconnects, but this is more than enough for most applications. You don't have to wire into your speakers and leave your phone exposed for would-be thieves…or worse…would-be DJs messing up your playlist.
The Solemate features a unique rubber bottom that looks like the sole of a chunky shoe. It makes it so the speaker does not slide around when it is on smooth surfaces. Jabra also boasts that this design will limit vibrations from the speaker, which I can attest that to be true as well.
I have used the Solemate in my truck as a bluetooth speakerphone for conference calls. It has a built in omni-directional noise canceling microphone that works better than the one built into my wife's SUV. Soulmate uses digital signal processing to optimize your voice and music and suppresses echoes.
All in all I give this device 5/5 tongues. I highly recommend it.
You can buy it through Amazon for about $150.00 (yes, I am an Amazon affiliate).