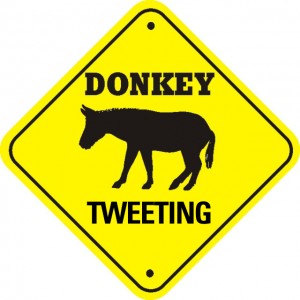 One of the arguments that I hear from people when they talk about Sponsored Tweets is that you will lose followers if you participate. It's total #bullshite from people who have no real experience with sponsored conversations. They make assumptions about how things work and how people will react without taking the time to try it for themselves and perfect the practice.
These are not "social media experts". Experts have actual experience with the tools and concepts they speak about. These are social media donkeys, following the herd blindly through the echo-chamber that is the blogosphere.
People like my sponsored tweets
What? Yeah. People actually find value in the sponsored tweets I share. So much so that they retweet them and thank me for "for the find". I am not going to say I haven't lost a few followers here and there, to be honest I have no idea. What I do know is I continue to gain followers and I have never had anyone complain about one of my sponsored tweets. Not only that, I have personally found some awesome new services from SponsoredTweets.com that I now love and use including Alice.com.
You can screw up any form of advertising
Have you ever been to a website or blog that had blinking "punch the monkey" banner ads all over it? How about an adsense explosion? It happens. It doesn't mean that display ads are bad, it just means they can be overused, misused or abused (like any form of advertising).
You have the choice
In Sponsored Tweets you have the ability to choose which advertisers you work with and how the message is shared (which is more than I can say for adsense). I am a proud Sponsored Tweets user and I am very selective on which advertisers I work with. It turns out so are the rest of you. Less than 50% of offers made to Tweeters in SponsoredTweets.com are accepted. It's not a question of money, it's a question of finding the right fit for you and your followers.
Ted's tips to successful sponsored tweeting
Sign up. You can't get any offers if you aren't in the system.
Be selective. Only take opportunities that are a good fit.
Cap frequency. Even if the opportunities are right you need to space them out.
Listen for feedback. Your followers will tell you what types of ads they like.
Don't let inexperienced fear mongers ruin a great financial opportunity for you. Let's look at this objectively:
Worst Case
You sign up and never find an advertiser that is a fit. Nothing happens.
Best Case
You connect with lots of advertisers and make huge bank doing what you love.
Most Likely
You connect with a moderate amount of advertisers you like and earn some extra spending money.