A few weeks ago at IZEAFest Aaron Brazell spoke briefly about the concept of entitlement as it relates to influencers. Aaron's point was simple, you aren't entitled to anything and should be thankful for everything. I agree with Aaron 100%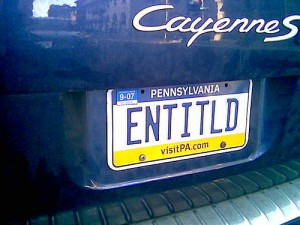 In my role at IZEA I work with beginning bloggers to celebrities and everything in between. I have to say that I have noticed a disturbing trend over the past few years across the entire social media spectrum. As the demand for bloggers and tweeters has increased so has the size of their heads. I am sad to say that many of the people I network with have become downright ungrateful. The inflation of entitlement far outpaces the true value of the people who display these behaviors.
Don't confuse entitlement with value. You should always negotiate the best deal possible for yourself and I would never suggest otherwise. However, the manner in which you negotiate your terms and interact with your business associates makes a huge difference. I don't care who you are… nobody owes you anything. Not a business opportunity, a free ticket, a free meal, a free drink or even a kind word. Everything somebody does for you is done because they want to.
I don't do business with people because of who they are, I do business with people because of what they are. While your stature may initially open the door it is your actions that keep the relationship progressing forward.
Ted's Guide to Avoid Becoming a Donkey
Be thankful
Participate
Smile
Recognize when you mess up, apologize when appropriate
Don't be afraid to be humble
One of my favorite bloggers is Drew from BenSpark.com. He has worked his way up the blogging ranks over the past few years but has always remained grounded. At BlogWorld Ben brought me an ice cream cone. He saw that I was trapped in my booth and I hadn't had anything to eat. First of all I want to say THANK YOU AGAIN. Second I want to say holy crap, how nice was that of you? I am not entitled to that sort of treatment and I truly appreciate it.
Even though Drew has become a big blogger he still does and says the things that he has always done. He is just a good all around guy, someone I met through business and now consider a friend. The door remains open for Drew because he doesn't believe he is entitled. He gives back more than he gets and I would do anything for the guy.
Don't be a Donkey
If you have made a name for yourself congratulations! I am happy for you and I hope it brings much prosperity. Just remember what got you there and that it could all be gone tomorrow.