The Growth of Digital Photography
Over the past two decades, owning a digital camera has shifted from being a rare luxury to an essential commodity for most Americans. Whether you are using a point and shoot, SLR or simply a camera phone chances are you take at least one photo per day on average.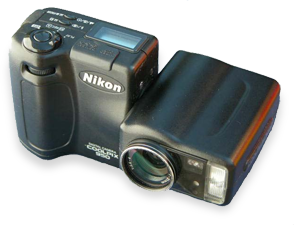 An engineer for Kodak, Steven Sasson, actually invented the first digital camera back in 1975. Despite being far more basic than the digital cameras today, it was much too expensive to be made available on the commercial market. The first Kodak digital cameras did not reach the market until 1990, and they still held a price tag of about $13,000.
Within a few years, other companies released their digital cameras, often boasting that they could hold 5-10 photos at one time. At this point, they were still much too expensive for most Americans. Digital cameras that were considered "cheap" were still priced upwards of $600 and produced very low quality images. During the last half of the 1990s, digital photography gained technological momentum, and competing companies gradually lowered their prices.
My First Digital Camera
I purchased my first digital camera in 1999. It was a Nikon Coolpix E950, it had a retail price of $899 and took 1.9 megapixel photos. I had a 8 megabyte compact flash card, which allowed me to store about 21 photos in JPEG mode (less than a roll of film) or one (yes, 1) photo as a TIFF. Below is one of the first photos I took with my E950, compared to a photo I took with my Canon Rebel T3i a few months ago.
The Death of Film
As a child I remember developing film in a dark room with my father. He always had a fascination with all things related to photography and motion pictures. At the same time, he was also an early adopter and bread that same spirit into me. Once I took my first digital photo I knew there was no going back.
As digital camera technology advanced and prices dropped, people like me bought fewer traditional film cameras. Photo enthusiasts were drawn to the ease and convenience of snapping several photographs without needing to buy and develop additional rolls of film. Early in the new millenium, digital camera sales finally overtook film camera sales for the first time. Nowadays, digital photography is the standard and photography classes are teaching technology that focuses on enhancing digital photos.
While the United States is still a top consumer of digital cameras, Western Europe and Japan are also large consumers gaining momentum. Warren Struhl, founder of Polaroid Fotobar, claims that roughly 1.5 billion digital photographs are taken every day. Over 300 million photos are uploaded to Facebook everyday alone.
Most Popular Cameras in the Flickr Community

Camera Brands used in the Flickr Community

A Missed Opportunity
While Kodak was an early pioneer in digital photography technology their dependence on the sale of film and film cameras caused them to lose the arms race in the digital era. Kodak is no longer the dominant camera company and had to file for Chapter 11 bankruptcy protection in early 2012. During the new millennium, Canon cameras experienced a rapid increase in popularity, producing several of the world's best-selling digital cameras (including the one I carry every day). Nikon, Sony, and Panasonic are also producing excellent SLRs. Even the little camera in your iPhone is capable of producing some pretty amazing shots.
Thinking back on the amazing advances over the past 20 years, one can only imagine what digital photography will be like in the next 20 years. My hope is that 3D photography advances at the same rate as digital photography has.